Staybull African Padauk
StayBull™ Eco-Friendly Hardwood Flooring
Our selection of wholesale solid hardwood flooring offers you a variety of options, we mill our eco-friendly flooring from many exotic and domestic species , from rustic to modern. Hardwood is a beautiful flooring choice that can be used to create any look ranging from traditional to contemporary.
We are able to offer excellent pricing on hardwood flooring since many of our mills that manufacture our Ipe decking also produce flooring. Our large volume of decking imports allows us to overlap our buying power on exotic flooring. We can offer our customers factory direct prices because we are the factory the mill and the direct exporter/importer. Other flooring providers are using middle men and brokers who put an up-charge on all the products that they handle. When you buy from us you can be sure the price that you are paying for your flooring will be the lowest price you will find.
Are you not sure what kind of hardwood flooring you are looking for??? Our hardwood flooring specialists will help you make the right choice within your budget requirements.
Common Name:

African Padauk

Botanical Name:

Pterocarpus Soyauxii

Raw Material Source:

Africa

Product Description:

Edge glued plank flooring

Grade:

Staybull Flooring™ Select and Better

Knots:

Closed pin knots allowed.

Checks/Cracks:

Selected for minimal surface checking in up to 5% of pieces allowable.

Grain Pattern:

Grain is straight to interlocked. Texture is similar to African mahogany, being slightly open grained.

Percentage Sapwood:

Selected for minimal sap, up to 10% allowable.

Color:

The heartwood is bright orange-red to blood red.

Weight:

2.8 lb/Sq. Ft. Approx.

Standard Dimensions:

Thickness: 3/4" (19mm)
Width: 5" Face (127mm)
Length: 1' – 7' (.304 – 2.13 meters), Average lengths are 3.5' (1.06 meters) or longer.

Edges:

Tongue and Groove with micro bevel.

Ends:

End matched tongue & groove – no micro bevel.

Textures Available:

Smooth

More Info

Installation:

Staybull Flooring™ can be installed on and above grade level. It is not recommended that this flooring be installed below grade. Installation procedures may vary, see installation instructions, maybe installed over plywood subfloor or glued to a well aged concrete slab (12 months or older).

Moisture Content:

Shipped at 6%-8.5% average. Moisture content may vary some based on the humidity level of the
installation site. Therefore, we recommend flooring be acclimated on the job site in the same environment
in which it will remain once installed, for a period of 1 to 3 weeks.

Finishes:

Pre-finished with Ceramic UV Cured Finish.

Stability:

Will expand and contract slightly less than Red Oak.

Waste:

We recommend 5% – 10% cut and waste on traditional sub floor installations.

Janka Rating:

1725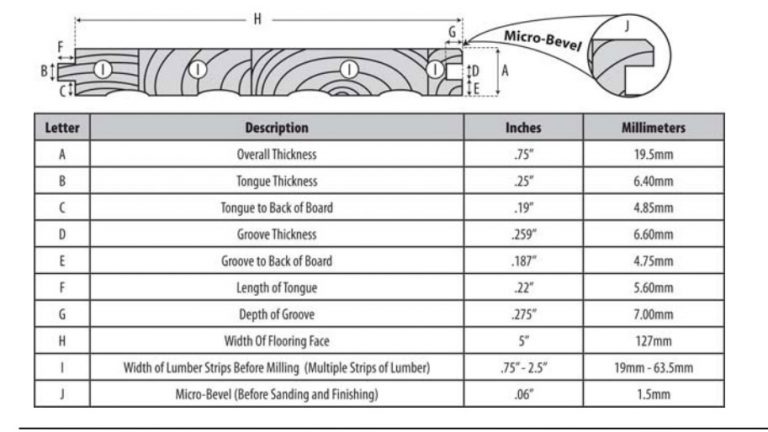 Advantage Flooring products are processed from solid kiln-dried lumber and rips. These flooring materials should be acclimated and installed in accordance with the National Wood Flooring Association recommendations. As each installation is unique, we urge you to contact us and a professional flooring installer for recommendations concerning jobsite evaluation and installation. Please contact your Advantage Flooring representative with any questions and view our website for general tips and guidelines on installation.