Wholesale Products Direct from our mill
Wholesale Exotic Hardwood Decking
We mill wholesale exotic hardwood decking in a variety of species such as Ipe, Cumaru, Tigerwood (Muiracatiara), Jatoba, Itauba, Garapa, and many other South American species. We manufacture decking for several different markets such as North America, Europe, Australia, and several other regions. We mill a variety profiles such as smooth, S4S (surfaced 4 sides) E4E (eased 4 edges), Anti-slip, and custom profiles. The standard radius for most decking is 3mm, but we also produce 5mm radius edges and other sizes upon request. Our Ipe decking is available as AD (air-dried) or KD (kiln dried). The other species we mill are typically produced kiln dried. Most commonly we kiln dry decking to 12-14% MC, but we can also kiln dry our exterior decking to your required moisture content. 
Advantage Deck Tiles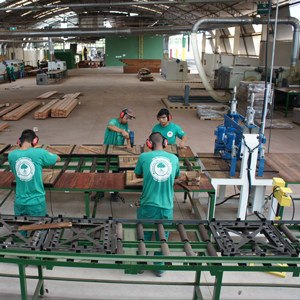 | | |
| --- | --- |
| Our Tiles | Some Competitors Tiles |
| 20×20 Z Back 3pc z back keeps tile square | 2pc Back Can rack out of square |
| 24" x 24" has 3pc straight back that keeps tile square | 24" x 24" can have 2 pc back that can rack out of square |
| Tiles are square | Tiles are not square |
| Stainless Steel Screws | Non-Stainless Screws |
| Kiln dried for maximum stability | Wet or Air dried, causing wood to shrink |
| Good quality milling on German machines | Poor milling with chatter, grain tearout and end snipe |
| Neatly applied end wax | Messy applied end wax, showing on surface |
| Corner holes drilled for DeckWise connectors | Not always drilled for connectors |
| Good consistent color | Poor color variation |
| No Sap Wood on surface | Sapwood |
| Tile is all the same species | Back of tile can be made from a cheaper specie than the top surface |
| Screws properly installed | Improper screw installation, causing splits |
| Consistent gap spacing | Variation in gap spaces |
| Optional pedestal mounting slot | Often not an option for pedestal mounting |
| Responsibly harvested from managed forest  | Legality of wood source questionable |
Live Edge Slabs
We produce live edge table slabs in a variety of species, thicknesses, lengths, and widths. From our Brazil factory, we ship mostly 2" (50mm), 2 ½" (64mm), and 3" (75mm) thick rough slabs. We also cut thicker slabs upon request. Our big slabs can range up to 67" (170 cm) wide. These are great for making large conference room tables, kitchen tables, desks, coffee tables, and other furniture. We can provide them AD (air dried) or KD (kiln dried) in species such as Jatoba (Brazilian Cherry), Tigerwood, Cumaru, Ipe, Angelim Pedra, Tatajuba, and many other South American hardwood species. We also produce smaller sizes with strange shapes and figures for special furniture projects. Our sawmill in Florida also produces Live Edge Slabs in a variety of wood species indigenous to India, South America, North America, Australia, Africa and Asia. These include Indian Rosewood, Camphor, Eucalyptus, Live Oak, and many other species. This gives you the opportunity to purchase a large assortment of properly kiln dried slabs in various species, shapes, colors, grain patterns, and figure at the best possible prices. The slabs shipped from our Florida sawmill are also available kiln dried, surfaced, and sanded to final thickness.
| | |
| --- | --- |
| In the Brazil Mill | In the Florida Mill |
| Itauba | Australian Beefwood |
| Tatajuba | Bishopwood |
| Angelim – Pedra | Bottlebrush |
| Angelim – Verelho | Camphor |
| Tauari | Carrotwood |
| IPE AD & KD | Chinaberry |
| Tigerwood | Citrus |
| Massaranduba | Banyan |
| Garapa | Cuban Mahogany |
| Jatoba | Eucalyptus |
| PurpleHeart | Acacia |
| BloodWood | Florida Cedar |
| Quaruba | Florida Cypress |
| Cambara | Java Plum |
| LaceWood | Laurel Oak |
| | Live Oak |
| | Longleaf Pine |
| | Monkey Pod |
| | Norfolk Island Pine |
| | Podocarpus |
| | Rosewood |
| | Silk Oak |
| | Sycamore |
| | Flame tree |
Wholesale Rough Sawn Lumber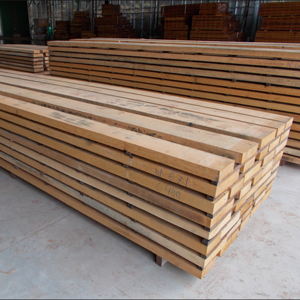 Our rough sawn lumber is available in GMS (random width and length) or fixed width (sorted for width and rough cut to width). All of our lumber is bandsawn for a more consistent production thickness than traditionally Circular Sawn lumber. We can provide AD (air dried), PAD (Partially Air Dried), or KD (kiln dried) lumber. Upon request, we can sort for a figure such as quartersawn, plain sawn, curly, bird's' eye, etc. We can kiln dry to the typical 6-8% Moisture Content for North American interior use, 10-12% MC for European interior use, or other levels as needed for your region or project. We can cut to standard lumber thickness of 4/4 (1" or 25mm), 5/4 (1 ¼" or 32mm), 6/4 (1 ½" or 38mm), 8/4 (2" or 50mm), or thicker as required. The widths of many of our species can run very wide. If you have special requirements please let us know.
Wholesale Exotic Hardwood Flooring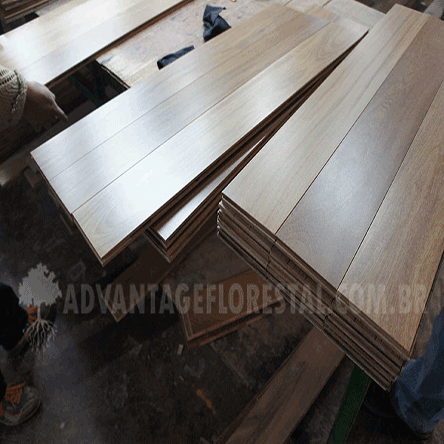 We produce hardwood flooring in a variety of tropical hardwood species such as Cumaru, Tigerwood, Ipe, Jatoba, Andiroba, and many others. Our most common dimension flooring is ¾" (19mm) thick x 5" (127mm) face, but we also mill a variety of other thicknesses and widths. Typically we mill the flooring 1' to 7' length, with a 3' average. We also mill custom long length flooring upon request. We ship only unfinished flooring from our Brazil factory, but we can also produce prefinished flooring in our US facility in small or large volumes.